Welcome to the heart of Romagna Region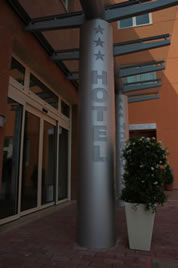 You're welcome to the Tati Hotel in Lugo. Our staff is pleased to welcome and assist you for a pleasant stay in the heart of Romagna Region, surrounded by beautiful hills and very close to the sea. We'll cater to you every wish, with the ambience and style of a relaxing hotel.
A 4 stars Business Hotel, with 48 double rooms with all confort, for spending relaxing days and restful nights. Private Parking is also available for our guests.
Located near the motorway, but also near the centre of the town of Lugo. Few minutes far from the beautiful towns of Ravenna, Faenza and the Adriatic Coast, in the centre of a paradise for bike excursions.
5 minutes from the historical centre of Lugo
1 Km from/to the A14 bis motorway (from/to Ravenna and Bologna)
10 minutes from Ravenna, Faenza and Imola
20 minutes from the Adriatic Coast with its attractions
30 minutes from Bologna