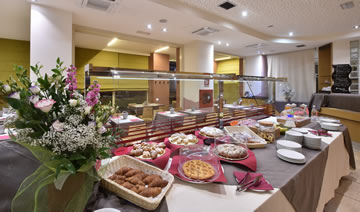 The Breakfast of Tati is served from 7.00 to 9.30 (Sundays from 7.30 to 10.00) in the large, bright breakfast room, adjacent to the Bar.
Our buffet-style continental, full of every dish fresh and salt to meet all needs, not to mention a taste of local products artigianalmenti created by our chefs.
A small list of what you will find:
- Desserts: Variety of pies and homemade pies, various types of biscuits and jams, wide selection of pastries and stuffed empty, honey and chocolate cream
- Muesli and yogurt: assortment of muesli and cereals, yogurt, fruit and diedetici
- Angle of salty with cold cuts and cheeses
- Fruits: Basket of seasonal fruit and fresh fruit salad crafts
- Bread: different varieties of bread and rolls, as well as biscuits, bread and wholemeal toast
- Cold and hot beverages: juices and fruit juices, water, coffee, cappuccino, latte and hot chocolate
- Corner Gluten free: small baskets of assorted products strictly gluten individually packaged
- Children: dedicated to the delights that meet the taste of all the world's children
At certain times for special events (trade shows or sporting events) and always on request we can provide scrambled eggs, omelets, sausages and bacon, sliced typical Romagna and fresh or seasoned cheeses, served always expressed on the moment.